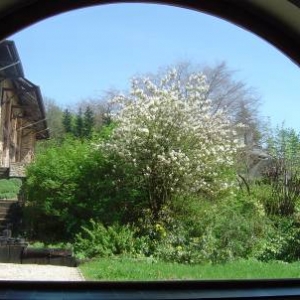 5-day Summer Retreat 'Quieting our mind, opening the heart'
10 July 2019 @ 11:00

-

14 July 2019 @ 17:00
Organised by Brussels Mindfulness.
This silent retreat is an integral part of the second year of the Teacher Training, but it is also open for other advanced meditators.
With Jake Dartington, Beate Trück (mindfulness teachers) and myself.
In this retreat we will take a deep dive into mindfulness practices and practice how to quiet the mind and open our heart. Each day will offer a sustained schedule of formal meditation practice, meetings with the teachers, talks and instructions, all within an underlying environment of silence. It takes place in the beautiful Benedictine convent "Hurtebise" in the middle of the countryside in the Ardennes.
What does a retreat look like?
Being away from day-to-day demands and all the external chatter means time to reflect, to reconnect with your true self and with nature. When the part of you that wants to be in control and that is afraid of change, is dominant, you are cut off from your deeper wisdom and intuition. But if you rest and create space to tap into your creative energy, you can get in touch with what truly matters and what kind of life you would really like to lead. People have reported that long after the retreat they could still feel the benefits of it, and that this nourishing feeling goes on for quite a while.
The retreat will be given with English instructions. It will be mostly in silence apart from individual and group meetings with the teachers.
You will be enjoying
The alternation of formal practices such as sitting and walking meditation and yoga.
Practices for deep relaxation.
Simple and nourishing food prepared with love by the nuns.
The sacred and healing energy of an active convent.
Free time to enjoy walks or simply relaxing in the beautiful surroundings.
A group of like-minded people with whom you can share experiences and grow together.
Single and comfortable rooms.
Silence to encourage reflection and healing.
Possibility for individual talks with the trainers.
Dharma talk by the teachers on the topic of the retreat.
Some benefits of a mindfulness retreat
Tapping into your inner resources contributes to feeling more rested, relaxed and calm.
Learning how to gain greater physical and psychological wellbeing.
Powerful new insights to take back into your daily life.
A new sense of inner freedom and the ability to see more clearly what really matters to you.
Self-compassion and being on your own side.
Having an idea of how to stop some unhelpful habits in your life and how to replace them by more useful ones.
The ability to respond more skilfully to life's challenges when they arise.
Finding a way to peace and wholeness in this busy stressful world we live in.
The venue
The retreat will take place in the convent of Hurtebise, an active Benedictine convent in the Belgian Ardennes close to Saint-Hubert. The location is a haven of peace and calm. The retreat is fully catered and food will be served by the nuns of the convent. Tea, coffee, fruit and snacks are available throughout the retreat.
The rooms are single an comfortable rooms with shared bathrooms.
Around the monastery there are many beautiful walks through the fields and woods.
The programme
The retreat will start on Wednesday 10 July at 11.00, and end on Sunday 14 July at 15.00.
Sample programme for a full day
7.30 – 9.00 Mindful movement; meditation
9.00 – 10.30 Breakfast
10.30 – 11.15 Meditation instructions and sitting meditation
11.15 – 12.00 Walking meditation
12.00 – 12.30 Sitting meditation
12.30 – 14.30 Lunch
14.30 – 15.15 Sitting meditation
15.15 – 16.00 Walking meditation or group interviews
16.00 – 16.45 Sitting meditation
16.45 – 17.30 Walking meditation or group interviews
17.30 – 18.00 Sitting meditation
18.00 – 19.30 Dinner
19.30 – 20:15 Evening talk from teachers
20-15 – 20.45 Walking meditation
20.45 – 21.00 Sitting meditation
21.00 Rest or further practice
This is an indicative programme, the actual timing might change (except starting and end times). The final programme will be displayed at the location.
The teachers
Jake Dartington is a teacher of Insight Meditation and Mindfulness-based Approaches. He began his meditation practice in 1995 and has taught at Gaia House retreat centre since 2007 following a three-year teacher training with Christina Feldman. He has also taught retreats in Finland and Denmark and worked as a mentor on the mindfulness teacher training led by Jack Kornfield and Tara Brach.
Beate Trück is managing director of Brussels Mindfulness. She is an experienced and certified mindfulness and positive neuroplasticity teacher and has given many retreats to an international audience over the past years. Participants like her warm and inclusive style and some of them come back regularly to her retreats.
Extra: massages available
I will offer Ayurvedic massages (body and head) during this retreat. These massages offer the opportunity to deepen your relaxation (physical and nervous system) and to get more in touch with your body.
Once you have registered, in the weeks before the retreat, you will receive more information about how to book a specific slot.
Rates
Rate for the retreat of 5 days with meals and accommodation in a single room: € 550
Registrations will close on Wednesday 3 July 2019 or whenever the retreat is fully booked.
Please check our terms and conditions.
Registration
Please send us an e-mail to info@brusselsmindfulness.be if you wish to participate in the Summer Retreat 10 to 14 July 2019, giving us your name and a phone number where we can reach you. We will then put your name on a list.
As this retreat is an integral part of the Teacher Training, priority will be given to participants of the Training. Any free place will be given to the people on the list, according to the order they registered via e-mail (see above). We will inform you as soon as possible if you will be able to participate in the retreat.
Please check our privacy policy.
Questions?
Do not hesitate to get in touch with us if you would have any questions.
For administrative and practical questions, please contact info@brusselsmindfulness.be.
If you want to discuss something directly with the trainers, here is how you can contact us:
Beate Trück – beate.trueck@brusselsmindfulness.be.